Aerospac Solutions - Supply Chain Management Story
Aerospac is managed by Systec, a developer of aerospace supply chain technology since 1975. For more information about us, click here.
© Systec Business Systems, Inc.

Following is an account of a day in the life of a company that relies on receiving paper certification documentation from its suppliers.

Bill, the receiving/inspection manager goes out to the receiving dock to receive in some shipments. He needs to make sure that the necessary documentation has accompanied the parts and that it is accurate before the parts or raw materials are received so parts can be manufactured. Most of the boxes contain the proper paperwork, but one is missing the cert package, one is missing the heat treat cert, and one has an error on the NDT cert.

Bill now has to contact the purchasing agent so the supplier can be contacted and asked to email the corrected documentation so the parts can be received in. Two of the suppliers are out of town and one is overseas. Bill laments that these issues could have been resolved before the parts arrived if the suppliers had provided the documentation online at time of shipment. That way, the paperwork would have been bought off prior to the parts' arrival. Bill emails the information to Peggy so she can resolve the problems.

Peggy in purchasing emails the affected suppliers to get the paperwork corrected and emailed back to her. However, the overseas supplier is 8 hours ahead, so the earliest this will get resolved is tomorrow. One of the suppliers responds immediately, but she doesn't hear from the other, so she calls Joe, the quality manager, only to find out the person she emailed at that company had left and no one had read her email. Joe says he will take care of the problem. This is wasting a lot of Joe's time. He wishes there were a better way.

Two days later, she receives documentation from the foreign supplier and forwards the email and attached file to Bill, who prints it out so he can buy it off and receive the parts in. Peggy still hasn't heard from Joe, so she emails him again. He replies that he sent the documents, but Peggy says she didn't receive it. He checks his email and finds that the email was rejected because the file size was too big. He says he will FedEx it overnight.

The paper documents will now have to be forwarded to document control for filing. Peggy and Bill wish that all of the documentation could be sent to Aerospac at the time of shipment. That would save them a lot of time and stress, and it would certainly help to get parts and raw materials into production sooner. And that would keep their customers happier.

This is not fantasy. This is what goes on within the aerospace supply chain every day. If you would like to change your script, contact us.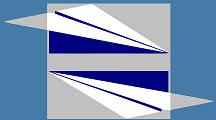 Manage suppliers, not paper. ©